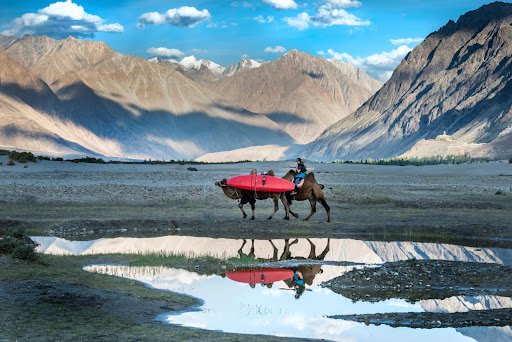 For all travel lovers, Ladakh is one of the fascinating tourist destinations in India. Ladakh is a land of high mountain passes, as the name suggests. It is well-known for its breathtaking landscapes, tranquil lakes Ladakh, and architecturally stunning Buddhist monasteries. Summer is the best time to visit Ladakh because the pleasant weather conditions allow tourists to explore this picturesque destination.
8 Top Things to do on a Leh Ladakh Trip
Biking at Khardung La Pass
Take a bike ride on the world's highest motorable road. Khardung La Pass is an excellent choice if you want to spice up your Leh Ladakh bike trip. The Khardung La Pass in Ladakh is famous for being the highest motorable road globally, measuring approximately 18,300 feet in elevation.
One of the most daring things to do in Ladakh is riding a bike through the Khardung La pass. When you reach the top, you immediately feel a sense of accomplishment and see the signage "Khardungla Top – highest motorable road in the world." 
Visit the Royal Palace of Leh
The Royal Palace of Leh is one of the most important things to do on a Leh Ladakh tour package for history buffs. SenggeNamgyal constructed the historical Royal Palace of Leh in the 17th century to house the former royal family. This nine-story palace's magnificent architecture is reminiscent of the Tibetan architecture of Lhasa's Potala Palace. 
The palace is easily accessible, being only about 2 kilometres from the main city of Leh. From 9 a.m. to 4 p.m., Visitors are welcome. Unfortunately, tourists cannot take photographs inside the palace. This palace is straightforward but eye-catching. This palace will provide an unforgettable experience for tourists who enjoy visiting historical sites.
Watch the sun going down Shanti Stupa.
Shanti Stupa is easily accessible to tourists because it is only 13 kilometres from the center of Leh. Japanese Buddhists built the Chanspa hilltop in Leh in 1991. The Shanti stupa is one of the seven Buddhists Stupas for peace. The religious significance of Shanti Stupa is also well-known. For those interested in the spiritual experience of meditation, the Stupa is a two-story structure with a meditation hall.
Night camping
Camping at night in Ladakh can be an unforgettable experience. On the outskirts of Pangong Lake, Nubra Valley and Tso Moriri are two of the most well-known camping spots in Ladakh. The night sky in Ladakh is indescribably beautiful. The sky is filled with stars and you can see the Milky Way's belt. This could be the ideal experience for you and your partner if you're looking for an exciting night's adventure.
Explore the local Markets
The "Main Bazaar" in Leh is one of Ladakh's most popular markets. You will get the famous items in this bazaar, including silver jewellery, Himalayan Pashmina Shawls, Tibetan Handicrafts, Ladakhi jewellery, and carpets. Tibetan handicrafts are extremely popular in Ladakh. You will get Tibetan clothing, artefacts, and handicrafts at "Moti Bazaar." It is a little out of the way from the main city, but you will get the items on excellent offer.
Relish the traditional delicacies of Ladakh
The traditional cuisine of Ladakh is Tibetan in origin. Momo's, Thukpa, Sky, and Tingmo are some of the popular Tibetan-influenced dishes in Ladakh. Those with a sweet tooth should try the Apricot Jam, which is made from apricots grown locally. Apricot jam made from locally grown apricots is one of the most popular items to bring back as a gift for friends in Ladakh.
Yak cheese, also known as "Chhurpi," is very popular. Yak cheese is made from milk and tastes like Ricotta cheese from Italy. You must try the Butter Tea, which is made from Yak butter, water, tea leaves, and salt.
Yak Safari
Yak safari is one of the most exciting activities in Ladakh. Yaks are massive animals that live in cold deserts. For thousands of years, locals have been domesticating them. Yak Safari is a one-of-a-kind experience available only in a few places, including Ladakh. The safari lasts about 4 hours and includes viewing some of the most beautiful landscapes and local flora and fauna.
Experience the magic at Magnetic Hill
Magnetic Hill is a magical location. This hill is 30 kilometres from Leh. People believe that the Magnetic hill road has unusual magnetic anti-gravitational properties. If you park the car and keep in neutral on this road, it starts moving up the slope at about 20 km/hr.