Art - Collectibles results
2 listings
4 months ago
Wooden wall letters
Wood Letters For Wall Crafted to the Highest Standard: Wood-in-Words takes great pride in crafting products of exceptional quality that stand out from the competition. Our wood letters for wall are carefully handcrafted using only premium-grade wood to meet our high standards for excellence. Hand Finished for an Outsta...
Kakching, IN
4 months ago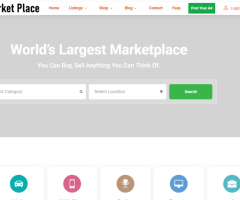 6 months ago
Angel's Marketplace: The World's Largest Marketplace
In today's interconnected world, e-commerce has transformed the way we shop and sell. Online marketplaces have become a hub for individuals and businesses to connect, transcending geographical boundaries and offering a vast array of products and services. Among the multitude of online marketplaces, one stands out as a ...
Chandīgarh, IN
6 months ago